SAFF Women's Championship: Nepal lose to India;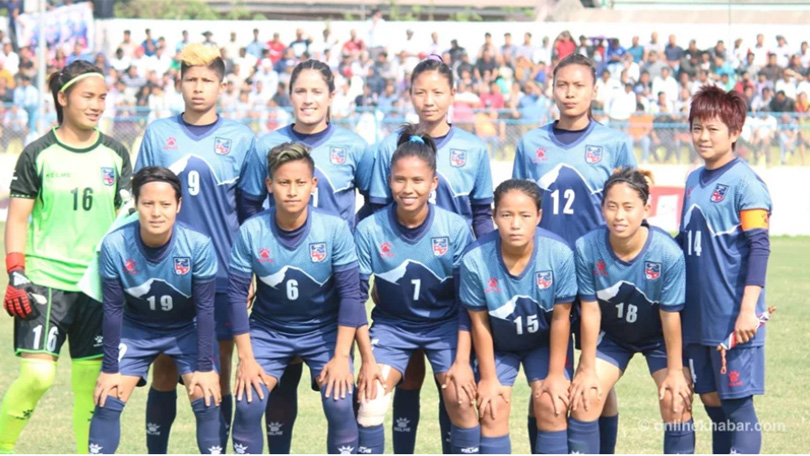 Once again, Nepal lost the final match of SAFF Women's Championship to the arch rivals India.
In the competitive match played in Biratnagar of Nepal on Friday, India defeated Nepal 3-1 to win the title for the fifth time.
It is Nepal's fourth loss to the powerhouse in a final of the regional tournament.
The hosts were aggressive in the first half of the match, but they could not continue the vigorous show after the intermission.
—
SAFF Women's Championship: Nepal Hope For Breaking The India Jinx
Nepal is aiming to made history by beating rivals and defending champions India in the final of the SAFF Woman's Championship on Friday.
This will be another chance for Nepal to beat India who have not won any match in any edition of the SAFF Women's Championship. Nepal's four losses in the competition have all come against India, three in the finals (2010, 2012, 2014) and one in the semifinal (2016).
However, coach Hari Khadka believes that the women are ready to create history by winning the trophy in their home soil.
"They are a strong team and we know that, but we are ready for this challenge. All the girls are ready for this and want to win it more than ever. I believe we will be title holders tomorrow," shares Khadka.
India's journey to the final of this competition has been relatively easy, scoring 15 goals in three games. India beat the Maldives 6-0 in the first game followed by a 5-0 win against Sri Lanka in their second. In the semifinals, India cruised past Bangladesh 4-0 to reach their fifth straight final.
Nepal have not had a bad tournament either. Scoring 10 goals in their three games, Nepali players have looked quite good during this year's tournament. Nepal beat both Bhutan and Bangladesh 3-0 in the group stage and eased past Sri Lanka 4-0 to reach the final.
Nepal's recent record against India isn't too bad either. In the past two games, Nepal have beaten India once and played out a draw in the other.
The coach believes that the recent results will give the girls a lot of heart while competing against favourites India in the final.
The final will take place at the Shaheed Rangashala in Biratnagar at 3 PM.